Cool Party Ideas for Quinceaneras in Chicago IL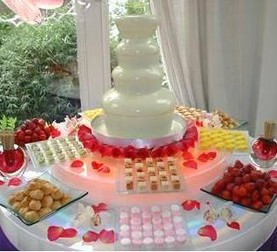 Have you already booked your party hall and bought your quinceanera dress? Are you trying to think of cool new ideas for the reception? We have discovered some the most creative quinceanera ideas in the world. No matter what your budget, the small touches are what make a memorable party. From beautiful tent rentals in Chicago to chocolate fountains to quinceanera cruises, we have found the best party ideas Chicago has to offer!
Have you ever seen a chocolate fountain? Look at the picture to the above. They are so cool! You can dip strawberries and countless other fresh fruits into the dripping chocolate fountain. Yummy! And they are not expensive to rent.

Photo booths are really fun too. You and your friends can close the curtain and take as many pictures as you can! The black and white pictures are the best. They are timeless as they capture you and your friends having fun and acting natural. You can rent these photo booths for a reasonable price and they give you the memories of a lifetime.
Fireworks
Fireworks are another original touch. To finish off the evening, imagine a small fireworks show to thank your guests! But remember to be careful. Having a professional plan this is highly recommended.
Tiki Torches/Lighting
Tiki torches and paper lanterns can lend a warm, intimate feel to any backyard at nighttime. Votive candles (the small handheld kind) can also add a magical feel to the evening. Imagine having the Quinceanera enter a darkened reception area through two rows of her friends/court holding votive candles. Imagine what it would look like if there was no artificial lighting and just the warm glow of votive candles or little sandbag lanterns (ask Home Depot or a hardware store about these if you are unsure what they are.)
Any party that has an ice sculpture is awesome in my book! Ice sculptures lend an aura of sophistication to the quinceanera and her court. Chicago has a number of great ice sculptors that can carve anything you desire!
Carved Fruits
Carved fruit is another cheap way to enhance a quinceanera reception. Oranges work best. You can carve a "15" into each orange. Look online for help carving.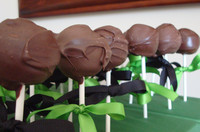 Espresso and Dessert Bars
Espresso bars are great accessories to dessert -- especially if you serve your espresso with cordials. These bars also provide a good jolt toward end of the night as the party winds down and the yawns start pouring in; plus, lattes and cappuccinos can also be served if need be. Dessert bars come with all kinds of little goodies. Chocolates, fruit tarts, candy, and much more. Design yours to your own specifications. There are plenty of dessert options to choose from!
Ice Cream Bars
Ice cream bars are another dessert option. You can rent ice cream machines that make hot fudge sundaes with tons of great toppings and much more. This is a great option to beat the heat if you are having a mid-summer quince.
Disco Balls
Disco balls are always fun. If you are reaching the limits of your budget, a disco ball is always a cheap way to keep the party going. Most Quinceanera DJ's in Chicago have one of these.
Disposable Cameras
Disposable cameras are a great alternative to photo booths. Put one disposable camera on each reception table. Let the guests take the pictures. Then get the photos developed and see what kind of pictures your guests took!
Margarita Machines
Margarita machines are another nice touch if your family is planning on offering alcohol to family and guests. Plus, by renting a machine, you can save money on alcohol costs. There are both frozen and non-frozen machines. We suggest the non-frozen machines because they are easier to maintain. And remember, a friend or family member may have one of these at their restaurant that they are willing to lend!
Let's face it, Chicago is one of the greatest cities in the United States because it is on the water. There are a number of companies that rent yachts of all sizes. Can you imagine taking a sunset cruise for your Quinceanera? Or what about a weeklong Caribbean cruise with friends and family aboard a massive cruise ship? Talk about fun!
Popcorn Machine Rentals
Everyone loves popcorn. Especially if its self-serve! Popcorn is a great snack idea for quince celebrations because people of all ages love to eat it. Plus it is cheap and rental prices are low compared to chocolate fountains. The only issue is keeping it stocked up. Someone will need to keep an eye on it throughout the party.
Cotton Candy Machines
Cotton candy machines are both yummy and fun. You can get a machine for about $100. They are easy to manage and set up. This is a great idea if you want to be a little different from the other quinces!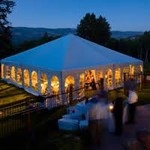 Make your backyard the party hall! Imagine a big, beautiful white tent in your backyard. All your friends and family gather to dance the night away. Tents of all shapes and sizes can lend a warm, intimate sensation to your Chicago quinceanera. They can even be rented with hardwood floors for dancing and air-conditioning!
*Whatever special touches you decide for your quinceanera reception, make sure you have fun with them. A girl's 15th birthday only happens once so be sure to make enough great memories to last a lifetime.