Tips on Choosing a Caterering Company in Chicago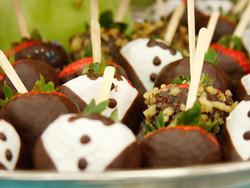 There are so many caterers in Chicago that it can be difficult to choose the right one for your quince. But we all know that food is a huge part of all Chicago Quinceaneras. So, the question is: Where do I start?
First, when hiring a caterer you should not limit your thoughts to food only. Catering companies in Chicago offer so much more. The sky is the limit as to what caterering services are offered in today's world. Other things to think about when hiring a caterer for your Chicago Quinceanera are drinks, service, dependability, table linens, and serving equipment.
Second, you will want to have a maximum budget in mind. If your Chicago catering quotes come in higher than expected, you may be able to lower your costs by asking your caterer to use disposables (cups, plates, utensils, napkins, etc.) instead of things like stainless steel utensils or crystal champagne glasses. *Be careful here, because you don't want to be seen as too cheap. Padrinos usually enjoy helping with the catering so don't be afraid to ask them for help!

When discussing the menu, caterers in Chicago should give you several options that cover both sit-down dinners and/or buffets. Traditional quinceanera food is always enjoyable. But don't limit yourself to rice and beans. Your hors d oeuvres can be as simple as cheese and crackers or as high-end as shrimp cocktail or caviar. The decisions are yours. Before you talk with a caterer in Chicago, think about the parts of the meal that you want to highlight. Do you want the appetizers to be the talk of the party? Or the dessert? (Chocolate fountains are a great idea here!)
Sit-down menus can include light hors d oeuvres or a salad, a meat selection and 2 sides dishes with a roll. Buffets give your guests more choices and can include a carving station of ham, turkey or roast beef. (These are always popular!)
As with photographers, be sure to ask your catering service for references and a sample tasting of some items that you are thinking of putting on the menu. But above all, a good caterer will be sure the food and service is not only a reflection of their company but your Chicago quinceanera.
Top tips on choosing the perfect caterer for your Chicago Quinceanera:
Will your Chicago catering company meet your overall budget?
Does your caterer have all the appropriate licenses and liability insurance?
As with all parts of planning, get the caterer's quote in writing so you will not be overcharged.
Does the caterer provide waiters and waitresses? (Always nice to have servers hired by your catering company.)
Flexibility: Is your Chicago caterer open to your input and ideas? Consider this when choosing decorations.
Ask for the resumes of the catering company as well as the head chef and the cooks that will be preparing your food. (If they hesitate or can't produce these, you may want to look elsewhere.)
Check references to make sure the catering company has a good history with Chicago Quinceaneras.
Check to see if the company offers specials or discounts for Quinceaneras. Many packages are available, so don't be afraid to ask!
Take a tour of the catering company. Ask for samples of the food. Make sure the kitchen is clean and reputable. Would you want to serve your guests food from a dirty kitchen?